As part of my coaching and training work, I see sales culture problems everywhere. Yes, we train sales people. Yes, we coach leaders. And little of that has any impact on culture.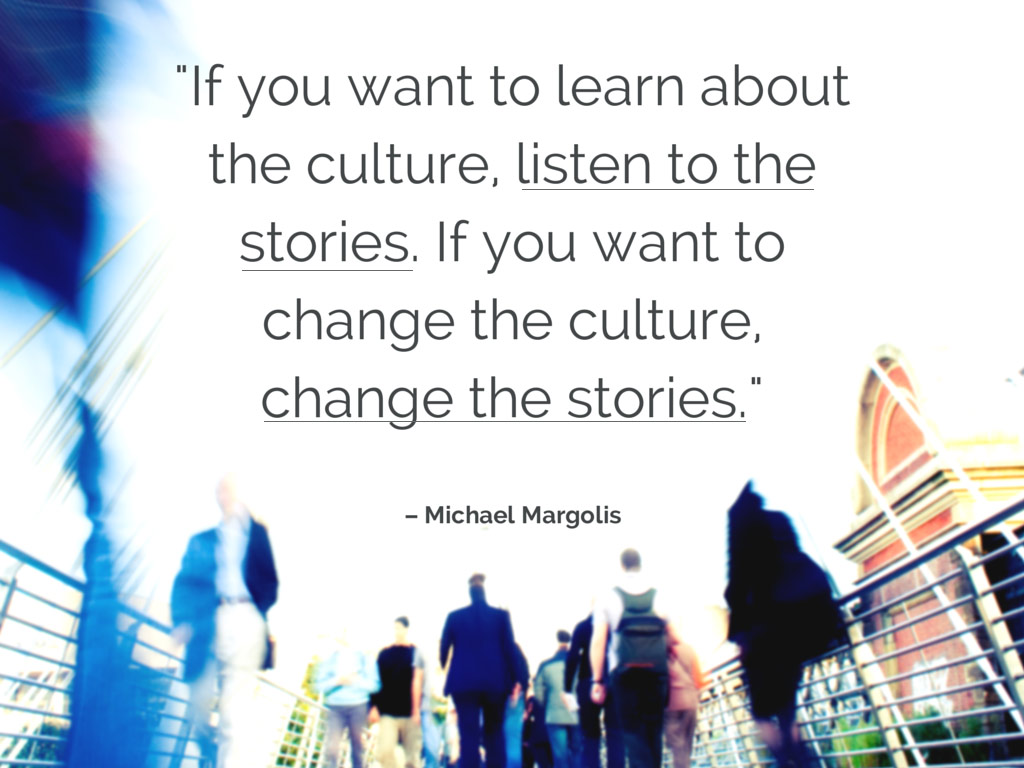 So what does? The quote says it all: Stories.
The Stories You Tell in Sales Meetings
When you sit in sales meetings – either as the leader or sales person – what do you hear? Do you hear lack and scarcity? Do you hear a drumbeat of, "We need to get this deal off the street and in the system"? Do you hear, "What do we need to do to close this?"
If those are the stories you hear, that speaks volumes about your culture.
I would prefer to hear things like this:
"How can we help our client get more value out of our product?"

"What can we do to help the client make a decision and become unstuck?"

"How can we better serve our prospect during the decision phase?"

"Does anyone have a story of a client who changed their results since buying our system?"
"How can we serve the client better during the sales process when he becomes confused?"
I know…I know…you're saying, "Hey, Bill. Hell, we have to sell our stuff, so we need to close." Not disagreeing with that.
But you're equating that mindset with more sales. That's misleading.
For The Sales Leader, Culture Is The Alpha and Omega
Sorry to 'go greek' on you there, but as a leader, you should be spending X hours/month on culture. I say "X" for you must decide that commitment. And there are two questions that should consume that time: What are we doing to improve it? And what are we doing to destroy it? Start your list and begin the work.
As you begin to ask yourself those questions, the answers will become apparent.
More Reading On Culture: Shawn Parr wrote an excellent article for Fast Company a while back. I recommend it. Here.
What will you do in the next 30 days to improve your culture? And, by the way, you don't have to be in a leadership position to do this. Do it inside your own domain.

Indianapolis Event:
On December 5th or 12th (8:00-11:00AM) in Indianapolis, I'll be presenting a workshop called "Prepare To Excel." It is explicitly for sales managers, VP's, Regional Directors, or anyone who oversees a sales team.
The only prerequisite is that you be a sales leader of some type. If you're interested in knowing more, go to www.caskeyexecutiveseries.com. There's a brief video there outlining the content. Hope you can make it!!