Today, I will share with you the story of Jason and how he used our sales philosophy and methodology to significantly grow his business quickly.
He came to me struggling in his sales territory. No, he wasn't about to get fired – but he was the classic underachiever. On the surface he looked like he could be a killer. But the results were never there. And he was becoming frustrated.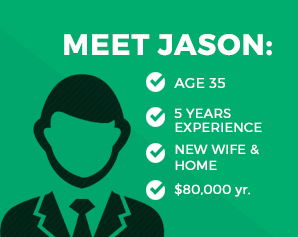 Jason was 35 years old with a new wife and a new house. He'd been in his current position for 5 years. He was a pretty good sales person -always in the middle of the pack. But…he knew he could do better. His manager was always telling him, "Hey Jason, you can crush this thing. You have tons of opportunity in your territory. What's going on?"
Those conversations shamed him – but they certainly didn't inspire him. He needed a plan and a way of thinking – a philosophy – which he wasn't getting. He was not a real ambitious bloak – not a trained killer. He'd always been average – earning about $80,000/year. BUT, he knew there was more.
One thing you should know about Jason. A born sales person he was not. Not sure anyone is – but there is a worldview that there IS such a thing. There is NOT. And, worse, he started to question himself if sales was even the right profession. Not a good place to be. As he began to doubt, he lost confidence in his ability. We call this the "doubt spiral." And it's ugly.
Results

So in the 6 months I worked with him, here were his results:
Tripled his average monthly appointment count.
Went from a closing rate of 10% to 65%.
Monthly income went up 3x.
And the biggest result was his confidence level – hard to measure, but hard to be without.
The Process: Sales Philosophy, Methodology, & Process.
As he got down on himself, a friend suggested he find a peer group to get in. He began to research online. He found a mastermind / learning group I run and set up an appointment with me where he shared his plight. He was very specific and very open, the first step to getting help and creating change.
Continue Reading »