In our last article, we covered the basics of content atomization, explaining how it works and how it can be implemented. In this second and final article of our brief two-part series on the topic, we will discuss an important notion that can give your content atomization strategy a bit more coherence: pillar content.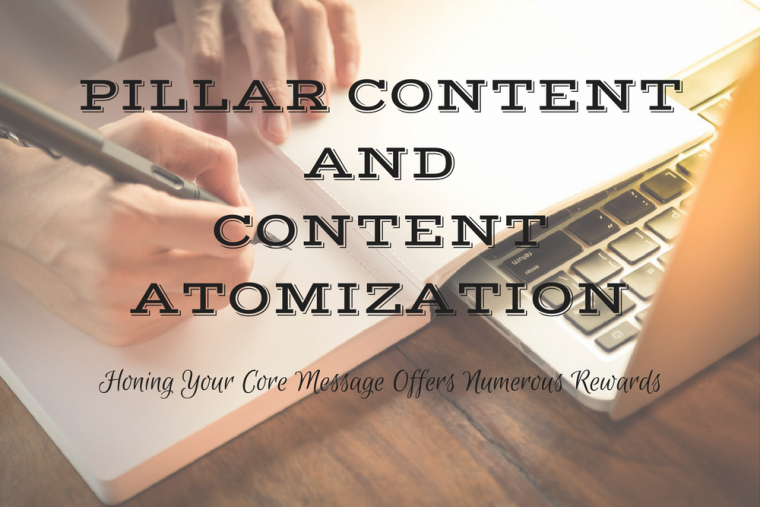 Great sales people are leverage thinkers, meaning, they are always thinking, "How do I best spend my time in order to get the highest return on it?" The story of "leverage" is the story of "success."
A cousin to "leverage" is the idea that you want something working for you when you're out serving customers. Most sellers have nothing like that.
Thus, content atomization.

One of the primary benefits that content atomization offers is efficiency. Releasing new online content on a regular basis is a must for anyone who wants an effective online marketing strategy.
But there's a problem.
Generating such a great deal of content is time-consuming and energy consuming. The secret is that by creating content more efficiently, businesses and individuals can streamline their marketing strategies while freeing up more time to solve other problems.
In addition to efficiency, content atomization gives you the opportunity to develop yourself as an authority in your field. By allowing your content to revolve around and expound upon a few central themes, you will be able to truly make an eloquent and elaborate case for the ideas you are most passionate about.
The key to pulling this off effectively, of course, is to base your atomized content around subjects that you really are passionate about–the ideas that inform and inspire bout you and your business.
The long-form content that you plan on using to create atomized content, therefore, must be important. It should be of the utmost quality, and should be held to the highest intellectual, ethical, and stylistic standard.
Because of the foundational importance of such content, marketing experts have given it the name "pillar content."
These fundamental pillars of your marketing and content message provide the cornerstone for all the atomized content that they will eventually inspire. The takeaway from this article: decide which content you plan on using for atomization purposes before creating it; and hold such content to the highest standards accordingly.